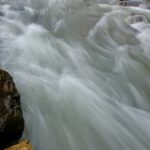 Join us in protecting, preserving and restoring our Home Watershed
Wolf Creek (Daspah Seyo, for the Nisenan) and its watershed, contains a biological diversity unique to the Sierra Nevada foothills. It is also a place rich with human history and home to many people. In spite of the intensive mining that transformed the watershed beginning in the 1850s, along with subsequent periods of urban and residential development continuing to this day, Wolf Creek, its tributaries and its largely forested ridges and slopes continues to serve as the foundation for our living here. Its water, both its streams and underground aquifers, make life possible. Forests shelter us and protect the streams. Vibrant habitats for plants and animals persist. Its natural beauty enlivens and restores us. Beginning some two decades ago, concerned citizens gathered as the Wolf Creek Community Alliance to protect this precious resource, for the health of its waters, for all its creatures, and for the community at large that benefits from its continued vitality as home.
Spotlight on our
Watershed Allies
Gemma LeMonnier
Gemma is one of the many volunteers who monitors the health of our streams each month. You are a citizen scientist, Gemma. Thanks for being a watershed ally!